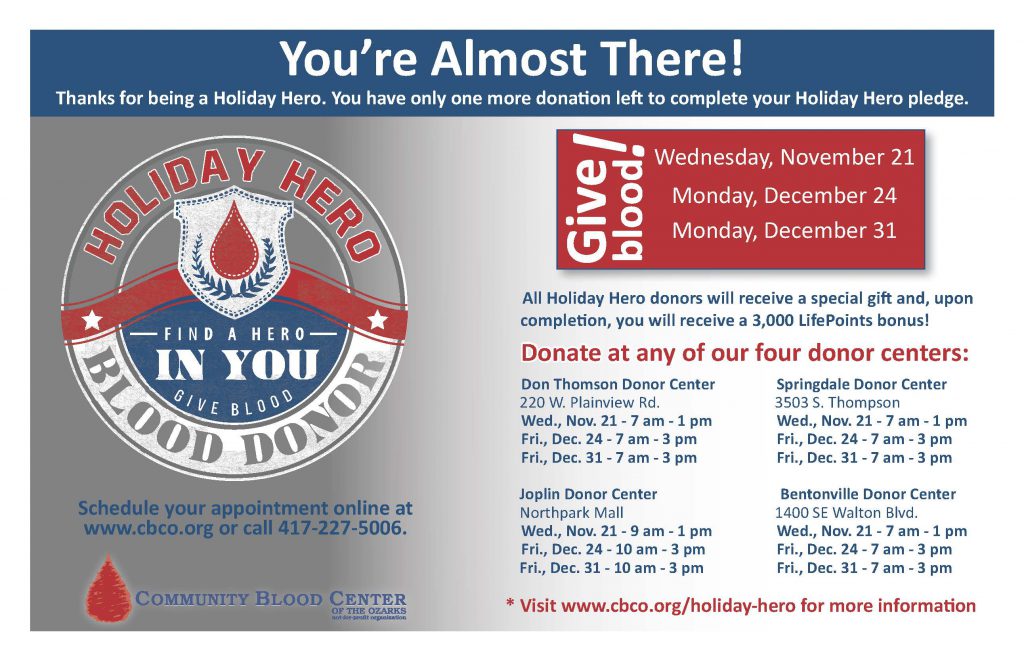 Make a commitment to give blood three times at our donor centers for our 2018 Holiday Hero Blood Drive during critical periods surrounding specific holidays, and we appreciate you so much! With each donation in this program, you'll receive free gifts like T-shirts and bonus LifePoints, CBCO's donor rewards program. (NOTE: If you have not yet joined LifePoints, you must create an online account within 7 days of donating to begin receiving LifePoints each time you donate blood.)
***Donors on December 24 and December 31, 2018, will receive a long-sleeved T-shirt and 1 Fandango movie pass (value $8.00)!
Remember — Complete all three whole blood donations within the time frames listed below, and we'll thank you with 3,000 bonus LifePoints! (These LifePoints will appear in your account by January 8, 2019.) Scroll down to see dates to give as a Holiday Hero!
DONATION #1 – Choose a Date, and then click on a donor center:
FRIDAY, MAY 25, 2018
Bentonville, AR
Joplin, MO
Springdale, AR
Springfield, MO
THURSDAY, JUNE 28, 2018
Bentonville, AR
Joplin, MO
Springdale, AR
Springfield, MO
FRIDAY, JUNE 29, 2018
Bentonville, AR
Joplin, MO
Springdale, AR
Springfield, MO
DONATION #2 – Choose a Date, and then click on a donor center:
FRIDAY, AUGUST 24, 2018
Bentonville, AR
Joplin, MO
Springdale, AR
Springfield, MO
SATURDAY, AUGUST 25, 2018
Springfield, MO
MONDAY, AUGUST 27, 2018
Bentonville, AR
Joplin, MO
Springdale, AR
Springfield, MO
DONATION #3 – Choose a Date, and then click on a donor center:
WEDNESDAY, NOVEMBER 21, 2018
Bentonville, AR
Joplin, MO
Springdale, AR
Springfield, MO
MONDAY, DECEMBER 24, 2018 ***Donors on this date receive a long-sleeved T-shirt and 1 Fandango movie pass (value $8.00)!
Bentonville, AR
Joplin, MO
Springdale, AR
Springfield, MO
MONDAY, DECEMBER 31, 2018 ***Donors on this date receive a long-sleeved T-shirt and 1 Fandango movie pass (value $8.00)!
Bentonville, AR
Joplin, MO
Springdale, AR
Springfield, MO