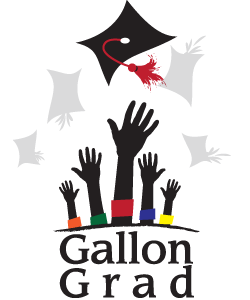 In recognition of the valuable life-saving contribution students make to our community's blood supply, the Community Blood Center of the Ozarks is pleased to offer a Gallon Grad Award Program for high school students. If you donate at least eight (8) times with the Community Blood Center of the Ozarks before your high school graduation, you will be eligible to receive the Gallon Grad award. This program is designed to encourage high school students to become lifelong blood donors.
How the Program Works
It's easy! Just sign up for the program and donate at least eight times prior to your high school graduation. Eight donations are the equivalent of one gallon. We will count all of your donations with CBCO both before and after you enroll. You can achieve Gallon Grad status by donating at your high school blood drives, as well as by donating at any CBCO blood drive or Donor Center near you.  You can find a blood drive coming soon to your area by clicking here.
Donors may donate whole blood every 56 days. Double Red Cell donations count as two donations and require a 16 week wait between donations.
Program Benefits
All Gallon Grad members who reach the one gallon milestone by their high school graduation will receive a Gallon Grad Certificate of Achievement, a One Gallon Pin and a very special Gallon Grad honor cord that you may choose to wear  during your graduation ceremony (with school approval).  You can add your Gallon Grad achievement to your job resume and college application, too. What a great feeling to end your high school years knowing that you have helped save multiple lives in your community!
Sign Up Today
It's simple to join. If you would like to sign up today, please fill out our Gallon Grad Enrollment Form at the right. For more information about the Gallon Grad Award Program, call CBCO toll free at 800-280-5337 or email us.