Make a commitment to give blood three times at our donor centers for our 2016 Holiday Hero Blood Drive during critical periods surrounding specific holidays. You'll receive free gifts like T-shirts and bonus LifePoints rewards.
Here's how it works.
When you make your first Holiday Heroes donation, you'll receive a great T-shirt, along with a 50% bonus on LifePoints, CBCO's donor rewards program. (NOTE: Donors must create an online account to receive LifePoints when they donate blood.)
With your second and third Holiday Heroes donations, you'll receive another free gift and 50% bonus LifePoints.
Complete all three donations within the timeframes listed below, and we'll give you an additonal 3,000 LifePoints!
Make an appointment using the links below. Remember
to choose one appointment from section listed, for a total of three appointments.
DONATION #1 – Choose a Date, and then click on a donor center:
FRIDAY, MAY 27, 2016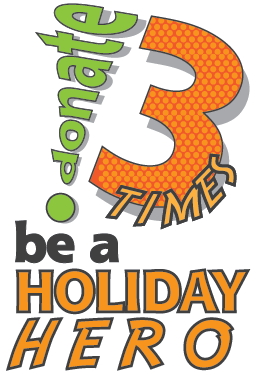 Bentonville, AR
Joplin, MO
Springdale, AR
Springfield, MO
WEDNESDAY, JUNE 29, 2016
Bentonville, AR
Joplin, MO
Springdale, AR
Springfield, MO
THURSDAY, JUNE 29, 2016
Bentonville, AR
Joplin, MO
Springdale, AR
Springfield, MO
FRIDAY, JULY 1, 2016
Bentonville, AR
Joplin, MO
Springdale, AR
Springfield, MO
DONATION #2 – Choose a Date, and then click on a donor center:
FRIDAY, AUGUST 26, 2016
Bentonville, AR
Joplin, MO
Springdale, AR
Springfield, MO
SATURDAY, AUGUST 27, 2016
Springfield, MO
SUNDAY, AUGUST 28, 2016
Springfield, MO
MONDAY, AUGUST 29, 2016
Bentonville, AR
Joplin, MO
Springdale, AR
Springfield, MO
DONATION #3 – Choose a Date, and then click on a donor center:
WEDNESDAY, NOVEMBER 23, 2016
Bentonville, AR
Joplin, MO
Springdale, AR
Springfield, MO
FRIDAY, DECEMBER 23, 2016
Bentonville, AR
Joplin, MO
Springdale, AR
Springfield, MO
FRIDAY, DECEMBER 30, 2016
Bentonville, AR
Joplin, MO
Springdale, AR
Springfield, MO