July 1-31, 2023
Mobile Blood Drives
At Community Blood Center of the Ozarks, we think blood donors are as sweet as can be! That's why we're offering an extra-cool donor reward at all mobile blood drives this July… FREE ICE CREAM!
While supplies last, all successful blood donors will receive ONE OF three possible rewards from local ice cream makers. And to put a cherry on top, they'll also receive an all-new "Chillin in the Ozarks" T-shirt!
FREE ice cream, a FREE T-shirt and the knowledge that your "cone"-tribution will help save lives right here in the Ozarks… now that's a triple scoop of reasons to donate! Find a blood drive in your community today!
Enjoy A Sweet Treat!
All successful blood donors will receive ONE OF the following rewards!
Voucher for a free pint of
Culver's Frozen Custard
Voucher for a free pint of
Hiland Dairy Ice Cream
Voucher for a $5 Dairy Queen Gift Card, redeemable online
Please note: Donor reward varies by blood drive location
In addition to the rewards listed above, a limited number of mobile blood drives will also offer "Pint for a Pint" vouchers for successful blood donations, while supplies last. These vouchers can be redeemed for a reward at ONE OF 10 local breweries! Click here to see a list of all participating blood drives.
Schedule Your Appointment Today!
Find a place to save lives near you.
Appointments are encouraged at all CBCO donor centers and blood drives.
Photo identification required. Please eat well and drink plenty of fluids prior to donating.
---
Give Blood. Support Local Charities.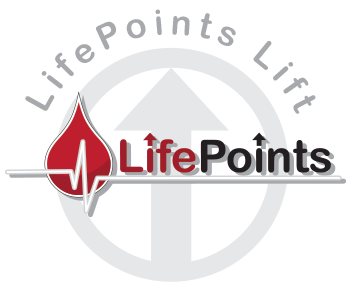 With a few quick clicks, Community Blood Center of the Ozarks donors can support charitable causes here in the Ozarks – at no cost to them! It's all possible through the LifePoints Lift program.
Donors who enroll in our LifePoints donor rewards program can earn points every time they donate. When you're ready to redeem your LifePoints, donate them to one of our LifePoints Lift partners. We'll convert your gift to cash and present it to your chosen nonprofit, so they can continue their important work in the Ozarks!
FEATURED NONPROFITS
NEW FOR 2023!
Give blood, plasma or platelets during a nonprofit's month, then donate ANY AMOUNT of LifePoints to that same organization by the fifth day of the following month! Community Blood Center of the Ozarks will TRIPLE the value of your LifePoints donation to that nonprofit, so it can make our communities even stronger!