Kickapoo High School Valedictorian Beats Ewing's Sarcoma
Twenty-eighteen has been a big year for 18-year-old Kelsie Mitchell. She was one of nine valedictorians graduating from Springfield's Kickapoo High School, served on student council's Cabinet leadership group, and was a member of the National Honor Society. And she has made plans to attend Truman State University in the fall. But just eight years ago, her main accomplishment was survival. "That's the biggest memory I have of my childhood," she said.
Kelsie was diagnosed with Ewing's Sarcoma, a bone cancer, after what she and her parents assumed were growing pains led to the discovery of a tumor on her right hip. She was then sent to Children's Mercy Hospital in Kansas City for biopsies.
At the time, she was already familiar with the word "cancer" because her mother, Laurie Mitchell, had volunteered with the American Cancer Society's Relay For Life fundraiser. But in Kelsie's 10-year-old mind, cancer wasn't something that happened to kids.
"When I was first diagnosed, I was like, 'Gosh darn it!' But then I thought, 'Let's fix it.' When I started going through treatment, I started to realize how bad it was. I didn't realize how hard chemo would be until I was going through it," Kelsie said.
"I was diagnosed April of 2010. I received my last chemotherapy treatment Christmas Eve 2010. So it wasn't even a year," Kelsie said. "Then I continued radiation until the end of January 2011, and that's when they said I was in remission."
Treatments took place at Children's Mercy Hospital in Kansas City, where she would stay for a week of chemotherapy, and then return home to Springfield for two weeks. She would then return to Kansas City for another week of chemo, and repeat the process.
Kelsie endured 14 chemotherapy treatments and 35 radiation treatments. She also required several whole blood and platelet transfusions, receiving blood from CBCO  donors.
"We'd have a nurse come and check my bloodwork every so often. It was like clockwork. Almost every time I'd have chemo, about 7 days later I'd need blood in town at Cox, and I got platelets sometimes too," she said. Kelsie needed blood following approximately 10 of her 14 chemotherapy treatments.
"My counts were all so low. I would feel really, really weak before I got blood," she said. "Every time I got blood, I'd go home and end up getting a fever. That's when I would have to go to the ER here in Springfield and then go to Kansas City."
Kelsie has not needed additional blood or platelets since her initial diagnosis, but she has had a few cancer-related setbacks. When she was 15, her thyroid was removed after cancer was discovered there. And in 2016, cancerous lymph nodes were removed. Chemotherapy caused a heart condition that she must watch, and she said she is at an increased risk of developing cancer again in the future.
Surviving cancer, Kelsie said, has given her a different perspective on life. "It's shaped me. I didn't know who I was yet, so it's a big part of who I am in a positive way. I don't think I would be the person I am today if I hadn't gone through it. It's made me a stronger person and a happier person because I'm able to enjoy things more. It's really strengthened my faith, which is really substantial and important to me."
Kelsie's parents are both blood donors, but due the type of cancer she has had Kelsie is unable to donate. This was disappointing news to Kelsie who, like her father, Ben Mitchell, has the O Negative blood type. O Negative is the universal blood type because it can be given to any patient with any blood type. Those with O Negative blood type can receive only O Negative blood. One in 15 people (or 6.6% percent of the population) has type O Negative, making donors like Kelsie's father in demand.
Unable to donate but stil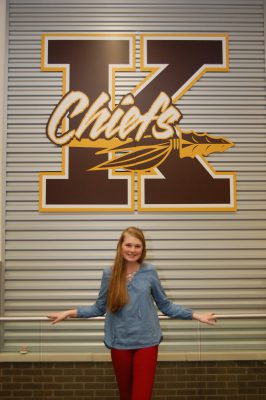 l wanting to help, Kelsie's position on the KHS Cabinet put her in charge of planning three of the four blood drives held at Kickapoo during
the school year.  In addition, Kelsie volunteers each week at the Ronald McDonald House, which is one of CBCO's 10 LifePoints Lift partner agencies. (For more information about LifePoints Lift, click HERE.) "I love it because I stayed at a Ronald McDonald House in Kansas City when I received my treatment, so it's great getting to volunteer at
one," she said.
If Kelsie could meet those who donated blood for her, she would be excited to let them know their efforts are appreciated. "I would imagine it's not the most fun thing to do, so it means a lot to me that they would take the time to do that," she said. "Being as I'm O Negative, I can receive only O Negative blood. I didn't realize that. I'm glad that people give and there was a supply of O Negative blood when I needed it."
Kelsie wants people to understand that donating blood makes a difference. "It's not just something you can do and forget about," she said. "It's actually impacting people's lives. Even if it doesn't seem like a substantial thing, it's saving people."
Ewing's Sarcoma At a Glance

• Ewing's sarcoma is a type of bone or soft tissue cancer that
primarily occurs in children and young adults.
• Often found in the long bones in the body.
• Symptoms include pain, swelling and fever.
• Second-most common type of bone cancer affecting children and
young adults.
• Accounts for about 1% percent of childhood cancers.
• Annually, about 225 children and adolescents are diagnosed with
Ewing sarcoma in the U.S.
• About two-thirds of Ewing's sarcoma patients become long-term
survivors of the disease.
• Researchers have found that Ewing's sarcomas are caused by
genetic changes that happen after birth. However, it is not known
why some people develop the disease. It is not passed down in
families.
SOURCE: MD Anderson Cancer Center