Springfield Mom Receives Blood and Platelets During Cancer Treatment
"Every door we passed had a sign on the outside that read, 'Chemo in progress,'" said Laura Winstead as she remembered being admitted to Cox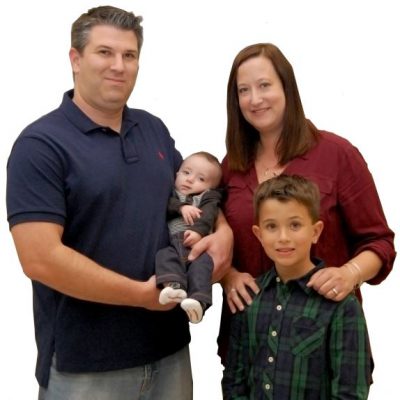 Hospital in Springfield for what her physician said would be a couple of nights for tests. "My husband and I just looked at each other as I had a slow realization, 'We're on the cancer floor.'" A diagnosis came the next day: Acute Lymphoblastic Leukemia (ALL). A couple of nights in the hospital turned into two and a half weeks.
"I started treatment immediately, within hours of knowing what we were dealing with," she said.
It was February 2010, and life was running according to plan for the Winstead family. Laura was a 28-year-old mom who enjoyed staying home with their 19-month-old son, Ryan. Husband John was considering enrolling in a Ph.D. program.
Back pain led to Laura seeing several doctors in a row, being prescribed a muscle relaxer, and then making a trip to urgent care when she spiked a fever and started sweating and bruising. A trip to urgent care resulted in a misdiagnosis of a virus, treated with antibiotics. Still not feeling well, Laura visited her general practitioner, who discovered that her platelet count was very low and her white blood cell count was very high. That was when she took that long walk down the oncology floor and received a diagnosis.
ALL, the most common type of cancer in children, is rare in adults. "As it turned out, I reacted to treatment more like a kid rather than an adult, which is very good because the prognosis between the two is worlds apart," she said.
Her five-course treatment plan lasted for 32 months, switching out one group of chemo drugs for another, including at least 17 spinal taps and 10 bone marrow biopsies.
"In the first month of treatment alone, I had approximately 12 platelet transfusions and five blood transfusions," Laura said. "After receiving a blood or a platelet transfusion, I could usually tell a difference by the next day. I would have more energy, or bruises would begin to clear up."
Blood work was required each morning and, based on her counts, physicians would determine whether she would tolerate chemo that day. She had donated blood in college, but hadn't given much thought to blood donation since. "I always thought of it going to trauma patient, a car wreck, or patient in surgery.  It never occurred to me that a cancer patient would need blood products."
While going through her illness, when people asked Laura what they could do to help she often encouraged them go donate blood and platelets. "You really are helping," she said.
Now in remission, Laura is back to work with the Ronald McDonald House  Charities of the Ozarks, and she must visit her oncologist annually for the rest of her life.
Laura and John welcomed another son, Luke, to their family in June. "One of the first things they told me was that I wasn't going to be able to have any more kids," Laura said. Her treatment originally called for radiation, but it wasn't required after all. "This new life and all of the wonderful blessings my family and I have experienced would not be possible without donors like you.  Not only do you recognize the need, but you take the time out of your busy schedule to do something about it."
You can make sure blood and platelets are available for local patients like Laura.
Donate at a CBCO mobile blood drive or donor center, and your blood or platelets will help patients at hospitals in southwest Missouri, northwest Arkansas, and southeast Kansas. To find a mobile blood drive or donor center near you, click HERE.