Be fabZOOlous. Give blood.
At Community Blood Center of the Ozarks, we know giving blood is a fabulous way to make a positive impact in your community. Each donation can help save the lives of up to three people in the Ozarks.
This August and September, we're teaming up with another organization doing fabulous work here in the Ozarks — the Dickerson Park Zoo — for a fabZOOlous promotion. All successful blood donors will receive TWO FREE ADMISSIONS to the Dickerson Park Zoo, plus other great rewards for their lifesaving gifts!
Here's how it works: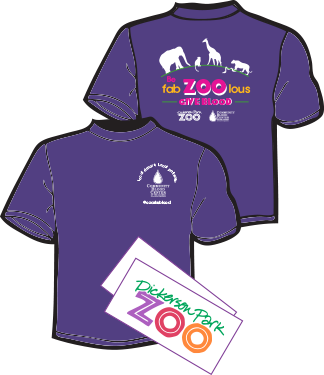 Give blood, plasma or platelets at a donor center or mobile blood drive between August 1 and September 30, 2022. While supplies last, you'll receive:
Two general admission tickets to the Dickerson Park Zoo in Springfield, Missouri — a $32 value!
A fabZOOlous Blood Drive T-shirt
Zoo admission tickets valid through July 31, 2023. No other discounts or coupons apply.
Plus, all donors will be entered into a drawing for an additional fabZOOlous prize!
One donor will receive a Zoo Safari Family Membership — a $119 value!
FIND A PLACE TO GIVE NEAR YOU!
About Dickerson Park Zoo
Dickerson Park Zoo is where animals and people connect. It's an adventure of discovery where friends, families and students of all ages can get outdoors and explore the beauty of the Ozarks while seeing and learning about animals around the world. The giraffe feeding deck and petting zoo provide up close encounters, and help with the zoo's efforts to educate the public and protect animals worldwide.
About CBCO
Community Blood Center of the Ozarks is the exclusive provider of blood, plasma and platelets to over 40 hospitals in southwest Missouri, northwest Arkansas and southeast Kansas. When you donate with CBCO, you're helping friends, neighbors, and loved ones in our communities.
Make Your Appointment Now!
Appointments are encouraged at all CBCO donor centers and blood drives.
Call 417-227-5006 or click the link below to book yours!
Photo identification required. Please eat well and drink plenty of fluids prior to donating.
Want to stretch your donation even farther?
With a few simple clicks, your gift of life can also support Friends of the Zoo, a nonprofit that helps fund the Dickerson Park Zoo's conservation education department and field conservation support. It's all possible through CBCO's LifePoints Lift program.
Every time you donate blood with Community Blood Center of the Ozarks, you can earn LifePoints redeemable for gifts in our online store. But you can also donate those LifePoints to local nonprofit organizations, such as Friends of the Zoo. Follow these simple instructions to help support the cause.
Once you've donated blood, register for the CBCO's online donor portal or log into your account.
Visit the online store and click on the Friends of the Zoo logo.
Follow the instructions to complete redemption process. CBCO will convert your gift to cash and present it to Friends of the Zoo so they can continue their important conservation efforts!
Learn more about Friends of the Zoo by clicking here.
FIND A BLOOD DRIVE NEAR YOU!